ADVANCE: A Revival Devotional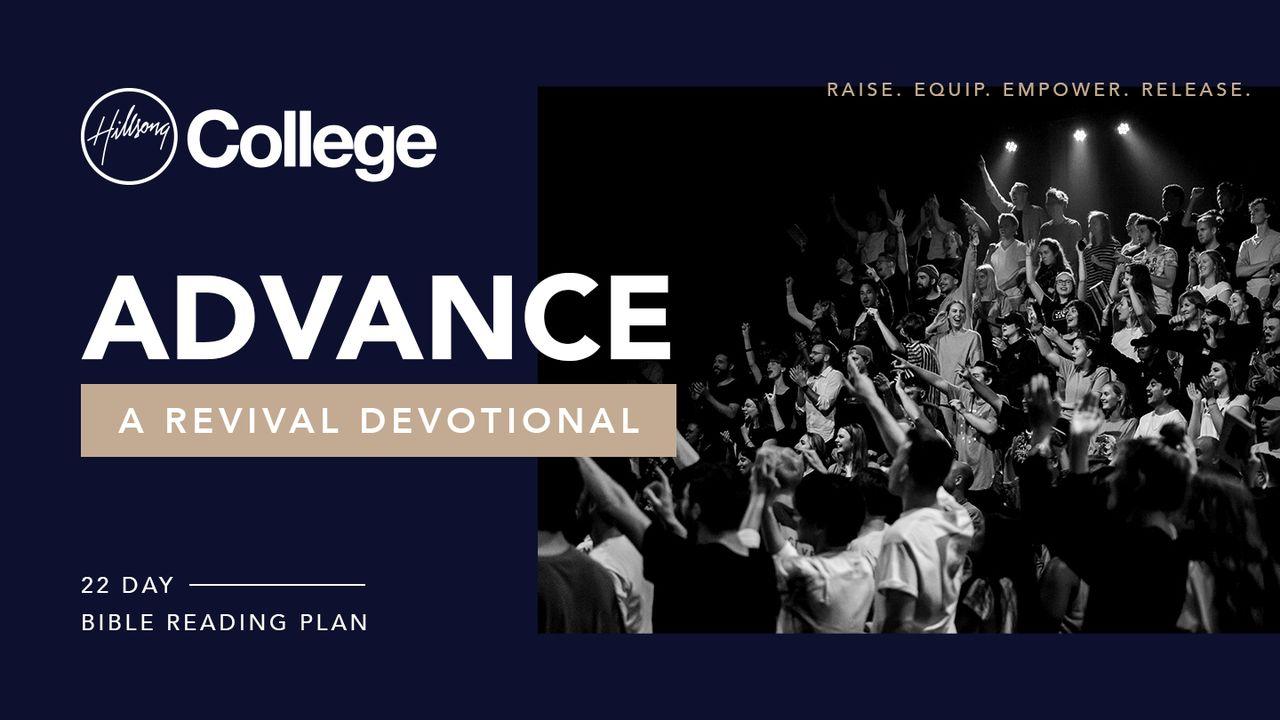 In Numbers 14, after the spies brought back their reports, God told Moses that Caleb and Joshua would be the only ones of their generation to enter the promised land. Though God had spoken that, it took another 40 years for them to actually enter the land. In the space between the promise and its fulfillment, they had to stay faithful to God. They had to decide to hold on to His promise and keep advancing no matter what came their way.
Proverbs 3:3 (NIV) says, "Let love and faithfulness never leave you; bind them around your neck, write them on the tablet of your heart." We're called to have a faithfulness that's fastened to us outwardly and written on our hearts in permanent marker. Our faithfulness - our steadfast persistence - should be seen by others outwardly and govern our every action. But how do we actually advance in this faithfulness?
Pastor Brian Houston says, "It's God's faithfulness which is the greatest platform for us to live faithful lives." So if we truly want to advance in faithfulness, we have to look to God as the source, the example, and the foundation.
When we build our faithfulness on the foundation that is His faithfulness, we will be able to stay loyal to the things we do. That faithfulness will lead to good outcomes. As Nathan Finochio says, "Fall in love with faithfulness and God will take care of the fruitfulness."
We learned yesterday that faithfulness is part of the fruit of the Spirit. That means that we're not alone in this! When we feel like giving up, we can lean on the Spirit to help us remain faithful.
Choose to fall in love with faithfulness. Choose to lean on the Spirit to help you. When things get tough, keep going. Stick to it. On the other side of Caleb and Joshua staying faithful to God was the promised land. Ask yourself today: what's on the other side of you advancing in faithfulness?
Action Questions:
In what area of your life will you choose to be more faithful today?
What would a life of faithfulness look like for you personally?
Prayer: "Father, I choose to build my faithfulness on the foundation that is Your faithfulness. Holy Spirit, help me to depend on You when things get difficult. As I advance in faithfulness, would it lead to Your Kingdom moving forward and You getting all the glory. In Jesus' Name, amen."
About this Plan
In this 22-day devotional, we will be unpacking the Bible to help people advance in their personal lives, relationship with Jesus, and ultimately help advance the kingdom of God. This devotional will help equip people to...
About The Publisher