ADVANCE: A Revival Devotional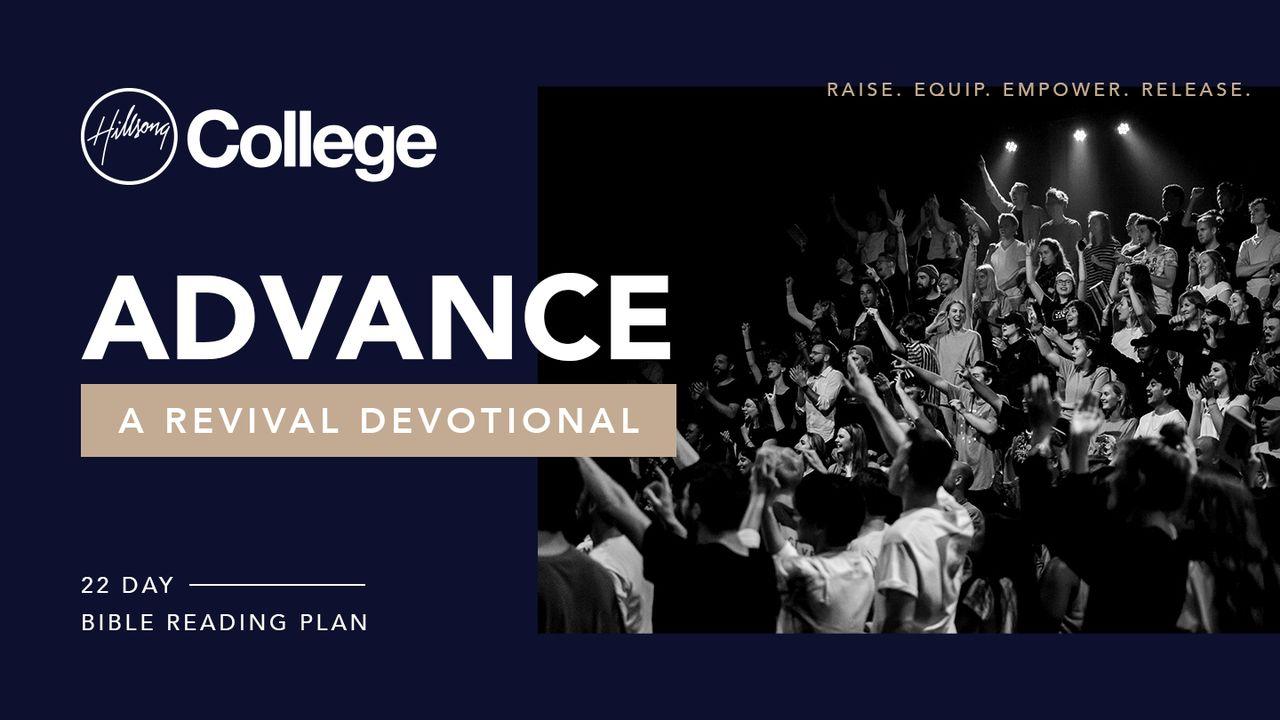 "Live transparently. Love authentically. And Lead courageously." - Brian Houston, Hillsong Church
Caleb and Joshua are prime examples of what it means to advance in leadership. In Numbers 13, whilst the Israelite spies were shrinking back from the calling God placed on them, Joshua and Caleb chose to advance into it. In Joshua chapter 14 Caleb exemplifies what it means to step into leadership. Here are 7 characteristics and 7 action questions for bold leaders:
Bold leaders are compelled by the promise God has over their life. Caleb held onto the word of God and that word is what compelled him to advance through whatever circumstance. What promise does God have over your life?
Bold leaders are consumed with vision. When God has given you a vision for what the future will look like if you are faithful to Him, let your decisions be filtered through that vision. How often do you meditate on the God-given vision on your life?
Bold leaders are constrained by conviction that is aligned with God's word. Leaders are called to live by conviction rather than convenience. Conviction will keep you where talent and gifting can't sustain you. What convictions do you have set in your life that will help you advance?
Bold leaders are content with their allotment. Lee Burns - vice president of Hillsong College - says, "Too often we want more than our capacity for faithfulness can hold" Be content with the lane God has placed you in. Do you know your role and are you content in it?
Bold leaders communicate culture constantly. Joshua 14:6-12 is simply Caleb communicating culture. Vision shows you where you're going; culture is how you'll get there. How well do you communicate the culture of your leaders?
Bold leaders confront mediocrity, not only in the people they lead; but they confront mediocrity in their own lives as well. Mediocrity will never lead you into the promise God has for you. Where do you need to confront mediocrity in your life?
Bold Leaders are consistently faithful. Brian Houston says, "Leaders are strengthened by your consistency" The level of your faithfulness will be the lid for the faithfulness of the people you lead. What area of your life do you need to practice more faithfulness?
Leadership is simply influence. Influence comes from having security in who God is and the promise He has over your life. When you decide to advance in leadership, you will first have to lean into who God is and who He has called you to be.
Action Questions:
What quality of bold leaders will you choose to advance in?
Prayer: "Lord I pray that you would strengthen me in my leadership capacity. Help me to take ground and advance in these 7 qualities of bold leaders. Holy spirit, give me strength, power, and direction as I step further into leadership. Amen."
About this Plan
In this 22-day devotional, we will be unpacking the Bible to help people advance in their personal lives, relationship with Jesus, and ultimately help advance the kingdom of God. This devotional will help equip people to...
About The Publisher