Creativity and Prayer
Creativity.
Every fabric of our being has this powerful word woven into it. We see from the very beginning a God who loves to create…
"In the beginning God created…" (Genesis 1:1)
From the roaring seas and all the unique creatures found beneath to the towering peaks in the Himalayas, we see that our Creator is anything but boring.
"O Lord, what a variety of things you have made!

In wisdom you have made them all.

The earth is full of your creatures." (Psalms 104:24)
God has created mankind in His own image (Genesis 1:26-27). As of this writing, there are over 7.6 billion image bearers on planet earth! Each of these human beings has extraordinary creative potential.
"For we are God's masterpiece. He has created us anew in Christ Jesus, so we can do the good things he planned for us long ago." (Ephesians 2:10)
YOU are a masterpiece! As I've heard it said, "God don't make no junk."
Not only that, you and I were created to do good things like pray. Prayer is a good thing.
Did you know that from Genesis to Revelation, there are 650 prayers listed in the Bible? I'm so thankful God included all those examples I can look to for guidance in my own prayer life.
Prayer can be done in any bodily position. Examples in scripture include sitting, standing, kneeling, faces to the ground, and hands lifted high. We encourage you to try all of these postures as you seek the Lord.
There will be times when you can't stop praying. At other times, you may not be able to utter a word (Romans 8:26).
On some days you may find it more convenient to pray early in the morning (Mark 1:35) while it may be late at night on other days. Or perhaps even all night (Luke 6:12).
You can write out your prayers, sing your prayers, paint your prayers, draw your prayers, and illustrate your prayers. You can record your prayers and share them with others. You can text or email your prayers to friends and family.
Pray while hiking, pray while cooking, pray while showering, pray while biking.
Visualization can also be powerful. For example, we know Jesus loved children and had them sit on his lap at times (Mark 9:36-37). Can you visualize yourself as that little child approaching Jesus and allowing him to place you on his lap? This could be a powerful time of prayer and simply adoring Jesus.
We simply want to encourage you to get creative as you pray. Venture out and try something new. As you do so, you're going to see a freshness in your walk with the Lord.
Take a moment and ask the Lord to show you creative ways to enjoy prayer. As you get new ideas, write those down in your journal and share them with others.
Here's to exploring the art of prayer!
Download more resources to get started here: http://yourcreativeadventure.com/youversion/
About this Plan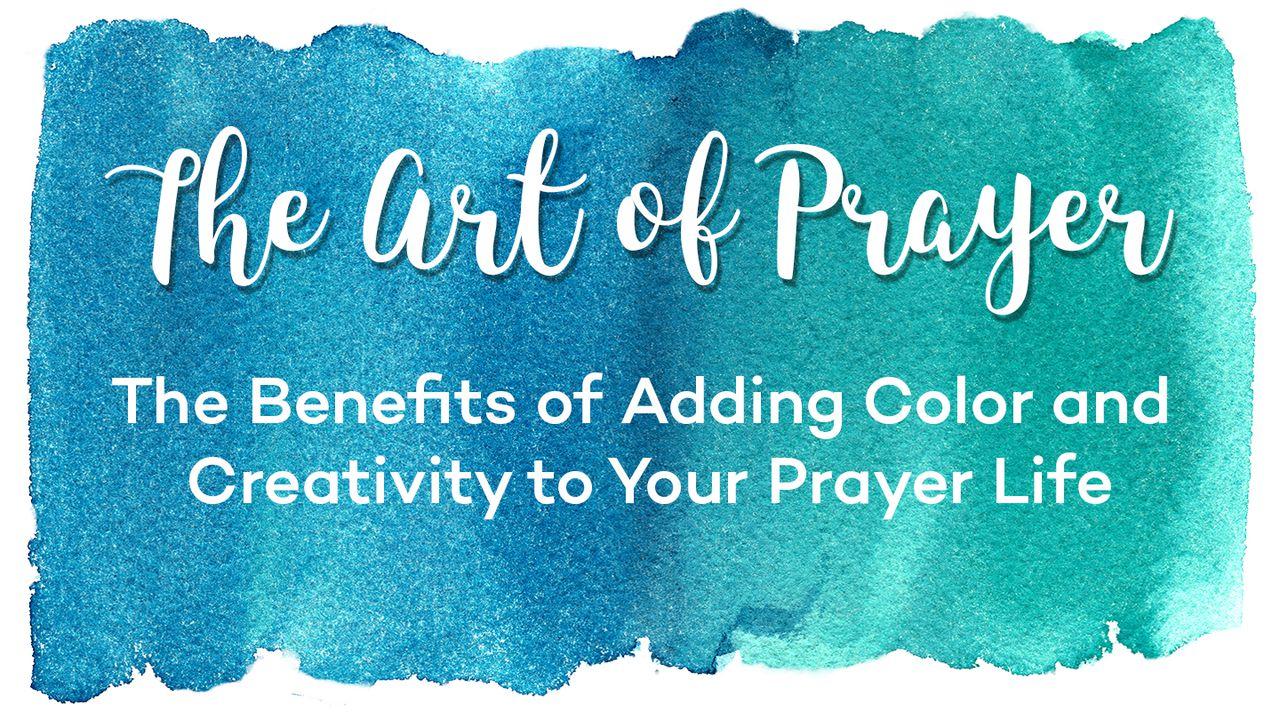 Prayer is our lifeline to God and how we access the power of God in our lives. However, it is easy to get distracted in our culture saturated with technology. In this devotional plan, you will learn about the benefits of...
We would like to thank CJ and Shelley Hitz in conjunction with Body and Soul Publishing LLC for providing this plan. For more information, please visit:
http://yourcreativeadventure.com/
About The Publisher