Social Media
I couldn't close this SPEAK LIFE Bible plan without commenting on the Social Media world that we live in. Without a doubt, social media is a HUGE influence on our thoughts and, therefore, on our minds. This is a very dominating source of input. Have you considered the positive, life-giving value of social media versus the negative and destructive trap that it usually is?
So many people these days suffer from anxiety and depression. I believe it could be traced back to an overwhelming amount of negative input as well as to a minimal amount of life-giving time in nature or the Word of God. Whether it is your TV, FB account, Twitter account, or Instagram account, you need to consider your screen time. Most of us would be surprised to learn the number of hours that we truly spend with our faces looking into a screen. Don't get me wrong, I do believe that there are some life-giving pictures, posts, and videos available. But, by far, we are filling our minds with a lot of trash, self-glorification, and pontification through so much negative input. Most of us are ignorant of the correlation between screen time and depression. Most of us don't consider that INPUT affects OUTPUT. We don't need to worry about anyone else's opinions, only God's.
This world, the news, and our circumstances could have us feeling like we are walking in a desert or a dry wasteland. Our souls thirst for life and must be fed with life-giving food. His Words. His creation. His fellowship. Are you feeling depressed from walking too long in the desert or dry wasteland of social media and screen time? Come to the living water and let Him satisfy your soul. Turn off those screens and open the Word of God. Ask Him to meet you there and make His Word alive. Then get outside. Take a walk. Fly a kite. Read a good book. Meet with a life-giving friend.
May I challenge you to take a sabbatical from social media? Pray about when to do this and then set an amount of time. It will be a fasting of sorts. Afterward, if you feel that the sabbatical was valuable, commit to limit your return to social media. Consider only posting uplifting or Christ-centered content. Since there has been so much division in our country, decide that you will bring something that would edify, inspire and speak life to a hurting world.
Life can be so much simpler and less stressful. We can have so much more hope. We need to use the time that we would be on a screen reading about stuff that doesn't matter and use it to spend time with Someone who does matter!
If you want to live life, speak life, and give life to the full, then you must consider the INPUT of your days. Change your input, change your output. Our days are fleeting. Start NOW.
Ponder: How can you make changes to decrease or eliminate your social media screen time? What are some productive things that you could do with your extra time?
Prayer: Oh Lord! Help me limit my screen time and increase my time with You. I want to live boldly and speak life into the hearts of others. I know that it starts with me.
PLAN END NOTE: Roxanne's passion is to speak life-giving truths into the hearts of others. She loves to speak at retreats and conventions. She hosts her own DEEPER Intensive and RISE UP coaching workshops and works with clients nationwide as a personal life coach. You can contact her, order her new book and get more information at RoxanneParks.com. She would be honored to connect with you.
Om den här läsplanen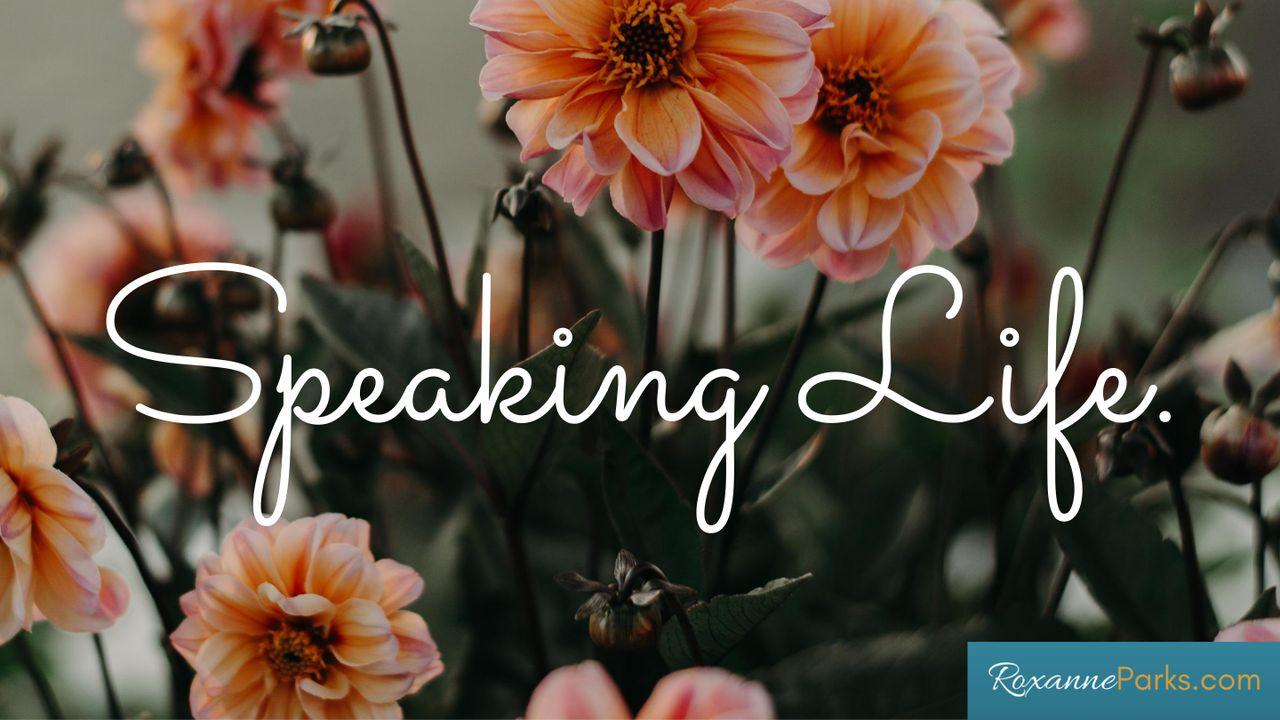 Words, words, words, power-filled words! Words that build or words that tear down. Words that give life or words that bring death. The choice is ours. Let's evaluate the significant power that is held in our words.
About The Publisher