Words to Live By
Since the enemy lies to us, we need to decide to speak power and truth back to him! We need to take action steps to turn the tide of negative words and thoughts. We need power-filled WORDS TO LIVE BY. And then we need to speak them over and over until they reach our hearts and our thoughts.
The truest thing about me is always what God says about me…not what I think or feel and not what others say, think, or do. We can become so paralyzed by lies and false beliefs that we miss the sweet plan of the Lord by a thousand miles. Study His Word. Let your faith speak and then ask God to help you with any unbelief.
We all need to make a renewed commitment to quit the negative self-talk. Just like any toxic bad habit, you can decide to stop this behavior. It may take time, perseverance, attention, and strength to quit negative self-talk completely because for many of us it has become so deeply ingrained, it is almost second nature. Once you are aware that you are doing it, understand that you will need to keep interrupting yourself and your thoughts to stop it altogether. Becoming aware of this behavior is the key to quitting.
When we take control of our thoughts and our words, we take back our life! I challenge you to create a list of daily affirmations to speak to your SELF…words to live by. This exercise is an important step in taking control of our thoughts and subsequently our words. It is time to practice speaking power and truth back into our lives by writing daily affirmations.
First, start with any negative thoughts or self-talk that dominate or frequent your thinking. List any lies that you are believing. What negative truths weigh you down and hinder you from living your best life? If our thoughts, self-talk, or words do not align with God's truth, we need to identify them.
Secondly, find scriptures as antidotes for these negative thoughts or lies. These spiritual truths can free you from those lies and stronghold/patterns. Take your thoughts and words captive to His truths! Choose words in alignment with the Word of God
Lastly, study these scriptures and craft positive statements, agreeing with them that you can claim and speak back into your life. These are positive affirmations that line up with TRUTH. Make your list. What affirmations can you speak to bring God's glory and better results to your life?
Speaking these affirmations daily will help you will begin to take control of your life by getting control of your tongue. Refuse to speak anything other than the Word of God about your life or situation. Take authority over your life with scriptures and the power of your own spoken words of affirmation. These are your WORDS TO LIVE BY.
What are some thoughts and lies going through your head that do not align with God's Word? Ponder choosing life-giving truths to replace those thoughts.
Lord, I want to speak and live from Your truths about me. Often, I feel so trapped in negativity and the weight of the world on my shoulders. Help me search for Your life-giving truths and meditate on them daily.
Om den här läsplanen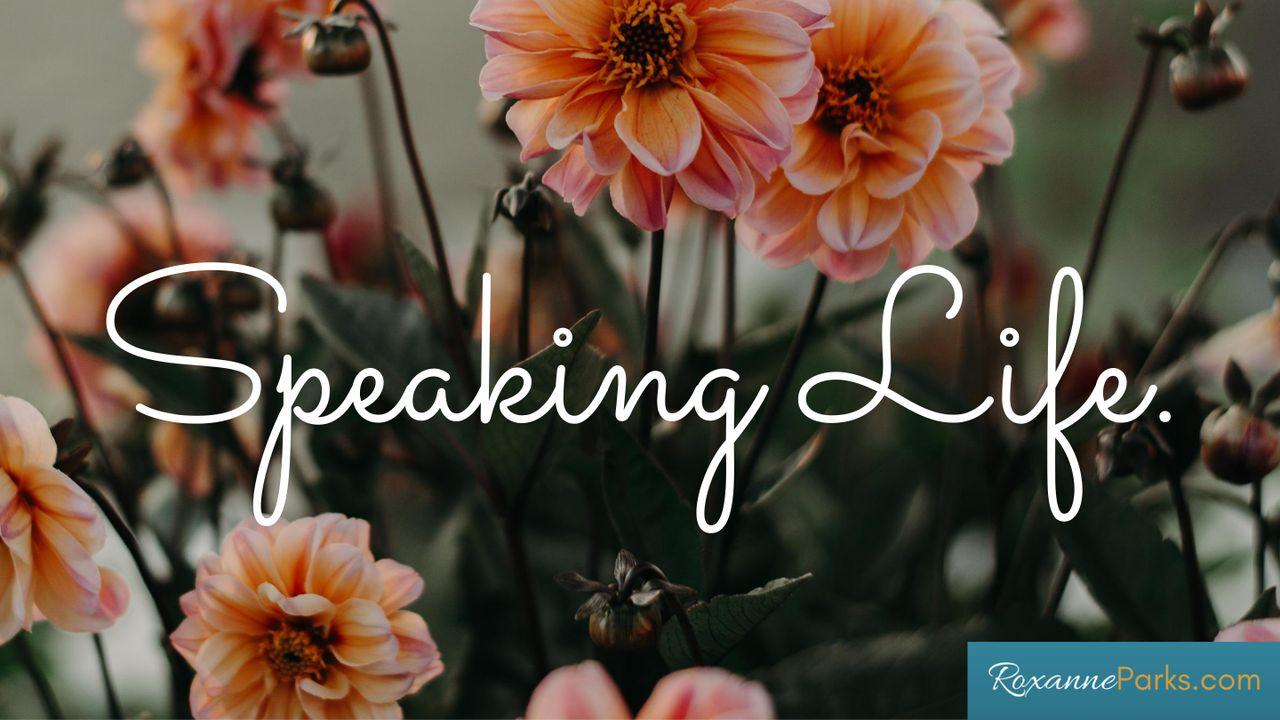 Words, words, words, power-filled words! Words that build or words that tear down. Words that give life or words that bring death. The choice is ours. Let's evaluate the significant power that is held in our words.
About The Publisher