Worried? I'm Not Worried: Overcoming Worry in Your Life.
Sample
Back to the Basics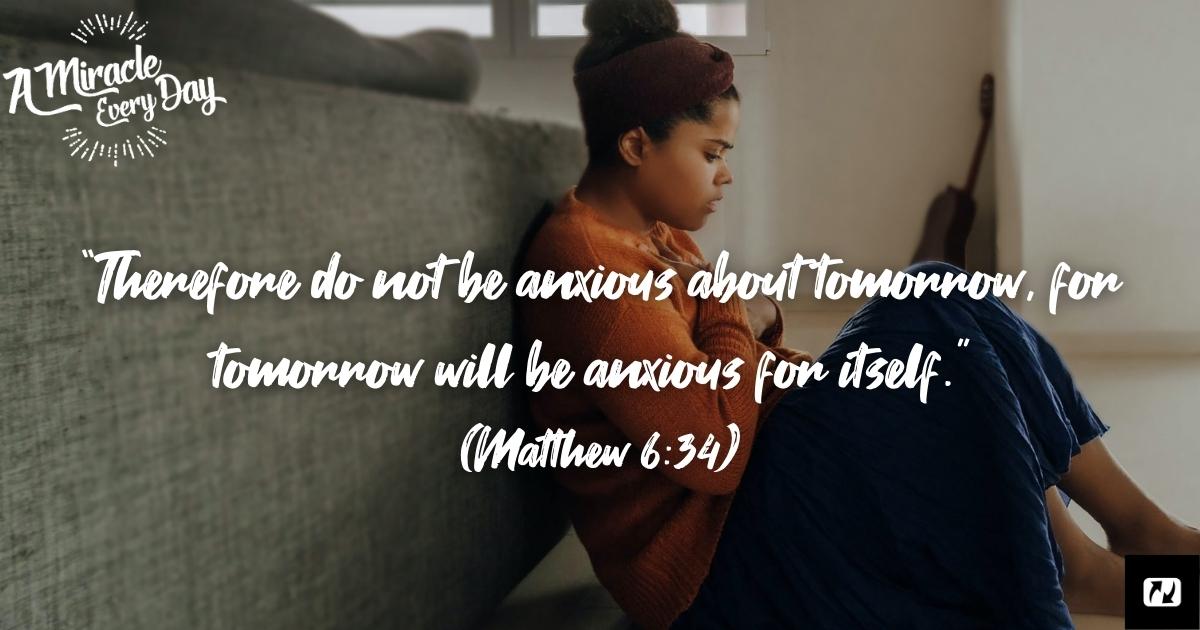 Hello, my friend!
I recently set out on a mission- I wanted to hear the answers from the people of the church of this question: "What is the one area of your spiritual walk that you feel you have made little to no progress on?"
The overwhelming answer – Controlling worry!
My spiritual family at Jesus.net also did a survey amongst A Miracle Every Day readers and the number one area where people struggled to gain spiritual ground was once again – Worry!
I was talking with a close friend of mine just a few days ago and this was their comment, "I have done everything I know to do to stop worrying about the future, but I have had no victory. I worry about my future, my kids, my home, my job and my health. When will I finally learn to trust God?"
Would you take a moment and go back over the answer my friend gave me? Underline or count the number of times you see the word "I" or "my" and then underline or count the number of times you see the name of God. Wow!!!!!
I believe the most important part of defeating worry is in flipping that ratio so that the name of God is the most prominent word in describing "our" current situation!!!! If we spoke more about the God who controls the future, we will worry less about the details of our future. If God is truly in control, we can trust Him to care for every detail of our lives, and that is the first step in reducing worry!
Listen to Jesus talk about God's attention to YOUR details!
"Therefore I tell you, do not be anxious about your life, what you will eat or what you will drink, nor about your body, what you will put on. Is not life more than food, and the body more than clothing? Look at the birds of the air: they neither sow nor reap nor gather into barns, and yet your heavenly Father feeds them. Are you not of more value than they? And which of you by being anxious can add a single hour to his span of life? And why are you anxious about clothing? Consider the lilies of the field, how they grow: they neither toil nor spin, yet I tell you, even Solomon in all his glory was not arrayed like one of these. But if God so clothes the grass of the field, which today is alive and tomorrow is thrown into the oven, will he not much more clothe you, O you of little faith? Therefore do not be anxious, saying, 'What shall we eat?' or 'What shall we drink?' or 'What shall we wear?' For the Gentiles seek after all these things, and your heavenly Father knows that you need them all. But seek first the kingdom of God and his righteousness, and all these things will be added to you. Therefore do not be anxious about tomorrow, for tomorrow will be anxious for itself. Sufficient for the day is its own trouble." (Matthew 6:25-34 NIV)
Take a moment and consider this powerful thought...if the God of the Universe can clothe and feed every living creature of the entire world, how much more will He care for and cover the needs of the children made in His image?!
Over the next 7 days, we are going to embrace Jesus in a new way of trusting Him. In moving closer to Him every day, we are going to watch our trust increase and our worry decrease!
Strategically and faithfully increasing our trust in Jesus is the only answer for worry.
Let's begin to build our faith together as we pray, "Jesus, you are in control of every detail of my life. I choose to trust you even when the way seems daunting. I hand over every detail of my life to you that is causing my heart to be anxious. I trust You in everything. Amen."
Every day without worry is a miracle!
You are a Miracle!
Grant
P.S. The texts of this reading come from the daily email A Miracle Every Day. If you would like to receive a daily encouragement,, I invite you to subscribe to A Miracle Every Day.
About this Plan
Do you worry about tomorrow? Or about yesterday? Or next year? Jesus speaks to worry, because he knew you and I would worry. ...