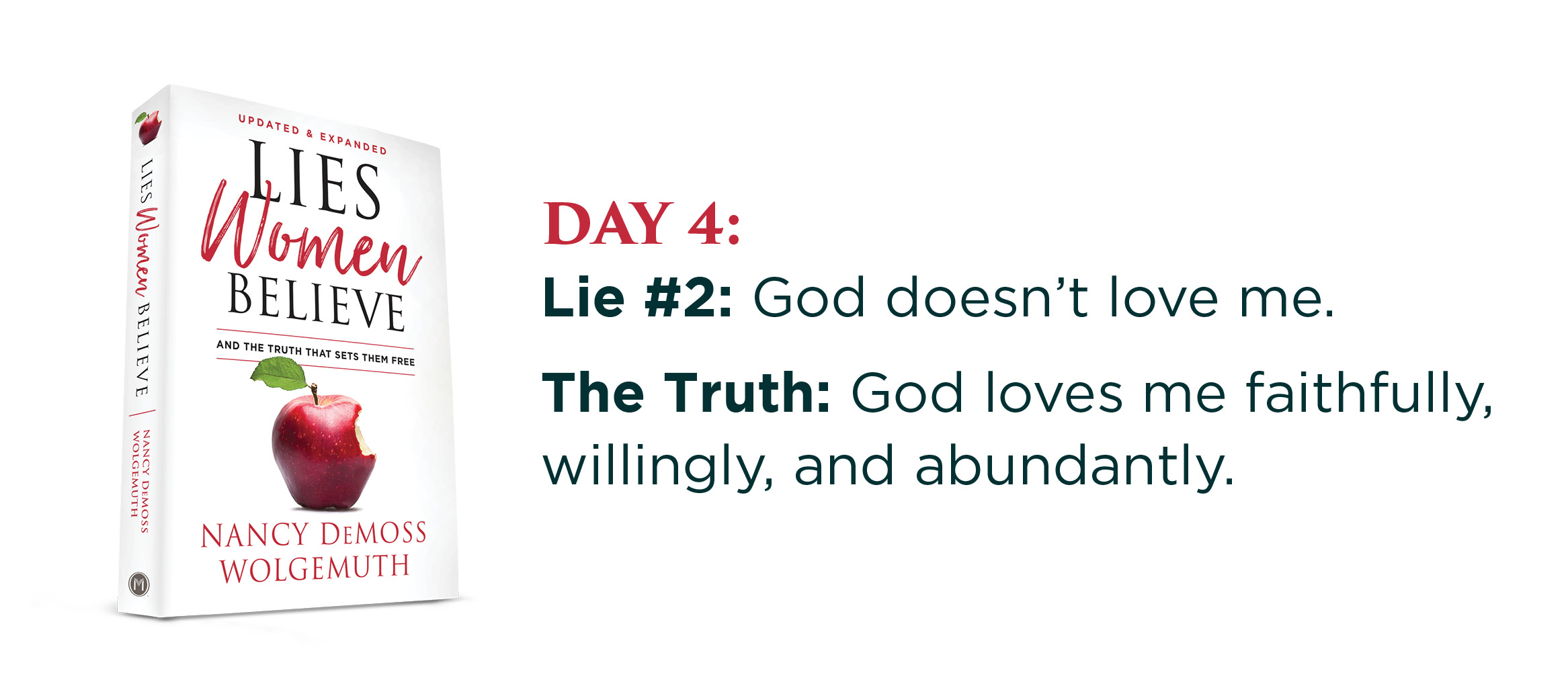 As with the lie we discussed in the last devotional, few of us would actually admit to believing this lie; we know we're supposed to believe that God loves us. But for many of us, there is a disconnect between what we know intellectually and what we feel emotionally.
And therein lies one of our problems: we trust what our feelings tell us is true rather than what God's Word declares to be true. We look around at our relationships—a lifeless marriage, rejection by a spouse, grown children who don't call or come to visit, approaching forty with not a man in sight—and our feelings tell us, "Nobody loves me—not even God. He may love the world. He may love everyone else. But He doesn't really love me."
We might never say this aloud, but that is what we feel to be true.
But the Truth is, God does love us. Whether or not we feel loved, regardless of what we have done or where we have come from, He loves us with an infinite, incomprehensible love.
God loves you, and He loves me—not because of anything good or wonderful about us, but because He is love. His love for us is not based on anything we have ever done or ever could do for Him. It is not based on our performance. We do not deserve His love and could never earn it.
The Scripture says that when I was His enemy, God loved me. You say, "How could you have been God's enemy when you were a little girl?" According to the Bible, from the moment I was born, I was ungodly, a sinner, God's enemy, and deserving of His eternal wrath (Rom. 5:6–10). In spite of my alienation from Him, He loved me and sent His Son to die for me. He loved me in eternity past; He will love me for all of eternity future. There is nothing I could do to make Him love me any less or any more. The same is true for you.
~Nancy DeMoss Wolgemuth
Questions:
● What hard situations in your life tempt you to believe that God doesn't love you? Are there sins that tempt you to believe he doesn't love you?
● What steps can you take to remember God's love for you? Is there a verse you could memorize or a song you could wake up to?