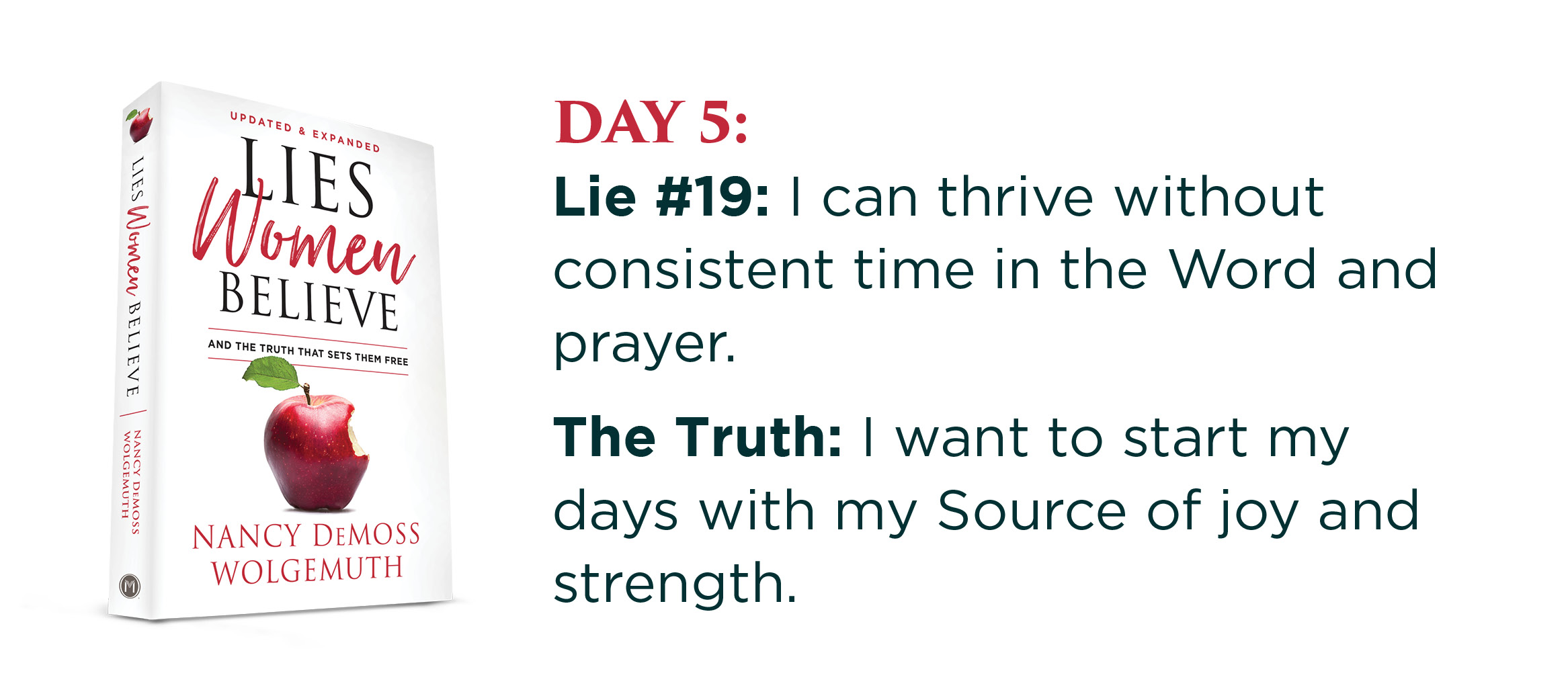 The essence of this lie is that we can live our lives independently of God. The Enemy doesn't care if we believe in God, if we have memorized lots of Scripture, or if we fill our schedules with a lot of spiritual activities . . . as long as he can get us to run on our own steam rather than living in conscious dependence on the power of the Holy Spirit.
If he can get us to try to live the Christian life without cultivating an intimate relationship with Jesus, he knows we will be spiritually anemic and defeated. If he can get us to do lots of things "for God" without seeking God's will through His Word and prayer, we may stir up a lot of religious dust, but we won't do Satan's kingdom any real damage. If he can get us to operate on our own thoughts and ideas, rather than seeking the wisdom that comes from God, he knows we will eventually get sucked into the world's destructive way of thinking.
King David in the Old Testament is a prime example of the necessity of seeking the Lord. Six times in the Old Testament, we're told that David "inquired of the Lord" (1 Sam. 23:2, 4; 30:8; 2 Sam. 2:1; 5:19, 23). He knew he couldn't make it without God. In fact, the first thing he did every morning—before turning to the business of the day—was to turn his heart toward the Lord in prayer:
"O LORD , in the morning you hear my voice; in the morning I prepare a sacrifice for you and watch." (Psalm 5:3)
"I rise before dawn and cry for help; I hope in your words." (Psalm 119:147)
Both my dad and my husband have been incredible examples of seeking the Lord first thing in the day. (Robert often says: "The Throne before the phone.") But I'll confess that too often I find myself turning my attention to the details and tasks of the day without first taking time to "inquire of the Lord." When I do that, what I'm really saying (though I'd never actually speak the words) is that I can handle that day on my own—apart from the presence, wisdom, and grace of God. I am saying I can do my work, keep my home, handle my relationships, and deal with my circumstances without Him.
That self-sufficient spirit is an expression of pride. And Scripture teaches that "God opposes the proud" (James 4:6). If I walk in pride, I must be prepared for God to oppose me and my efforts. Sometimes I get the sense that God may be saying to me, "You want to handle this day by yourself? Go ahead." At best, the result is a fruitless day lived by and for myself. At worst, what a mess I end up making of things!
On the other hand, James 4:6 says that God "gives grace to the humble." When I start the day by humbling myself and acknowledging that I can't make it on my own—that I need Him—I can count on His divine enabling to carry me through the day.
Apart from abiding in Christ—living in conscious union with and dependence on Him—you and I cannot do anything of spiritual or eternal value. Oh, we can create a lot of activity, we can make a lot of decisions, but we will end up having nothing of real value to show for our lives.
The Truth is, it is impossible for us to be the women He created us to be apart from spending consistent time cultivating a relationship with Him in the Word and prayer.
~Nancy DeMoss Wolgemuth
Questions:
● Think back to the last few times you skipped spending time with God. What were you prioritizing instead?
● What is stressing you out right now? What's on your to-do list? Surrender that to God, and ask for his help and strength.
It is our hope that women would be truly set free from the bondage of lies. If you're enjoying this week's devotionals, learn more about Lies Women Believe: And the Truth That Sets Them Free, where Nancy DeMoss Wolgemuth identifies 45 lies many women face and the truth that counters those lies. We hope this book encourages and equips you on your journey to freedom.