Overcoming Insomnia - Part 1
Sample
God designed you to sleep
Better sleep takes a real commitment. Do you really want better sleep? Then commit – NOW – to complete each day of this 3-day plan. By the time you complete day 3, you will be sleeping better than you ever have before so commit now to finishing!
At the end of each day, there is a real audio sleep session that combines scientific relaxation techniques with encouraging Biblical principles that will help you get the sleep you need.
God designed you to sleep! This physiological fact is embedded in the biology of every person on earth. Yet roughly one-third of us struggle with insomnia and about 10 - 15% of us are chronic insomniacs who struggle every night with debilitating sleeplessness.
Yet God intends calm, relaxing sleep to be a gift He offers you. A gift of restoration and replenishment from God who loves you more than you can imagine and has promised to protect and provide for you. Didn't Jesus offer rest for your weary soul when he said: "Come to me, all you who are weary and burdened, and I will give you rest."? You can know God wants you to experience serene, relaxing sleep as His gift to you, His child.
When we are filled with doubt and anxiety, it's difficult to get a good night's sleep. We wake up in the middle of the night filled with fear and worry, our mind "spinning" from one worry to another. But what is the root cause of this anxiety? Isn't it uncertainty about whether God is there for you, whether He really will protect and provide for you?
But if you had an unshakable confidence that God would always be there for you and that nothing could ever separate you from Him and from His love, wouldn't that help you relax and drift off to sleep at night?
Do you realize that as a child of God, you are secure in Christ? Jesus Himself said that nothing and no one can separate you from Him and His love.
As His child, you are secure in Christ. Let your mind meditate on this thought: I am secure in Christ. You are secure beyond anything you can imagine because it is the God who created all things who secures you. And it is this security that your spiritual enemy tries to steal with worry and concerns that in Christ, you need not bear. But you're not going to let this happen. Instead, right now picture yourself trusting your loving Savior with every care and concern you have.
Feel the security – the complete security of your Heavenly Father – surrounding you, enveloping you, holding you. Relax. He is your security and there is none greater….He is Lord of all and that includes the details of your life. Jesus said that even the very hairs of your head are all numbered - the details of your life matter to Him. So relax in His unlimited power to protect you, provide for you, and give you the rest you need tonight.
Tonight when you are ready for bed, pop in your earbuds, click on the audio clip below and relax as you close your eyes and listen to a small portion of our "Beside Quiet Waters" sleep session that will reinforce today's devotional as you drift off to sleep. NOTE: Sleep sessions begin with relaxation techniques that prepare you for sleep, a spiritually encouraging message that reinforces today's topic and then final relaxation techniques to help you sleep peacefully tonight.
About this Plan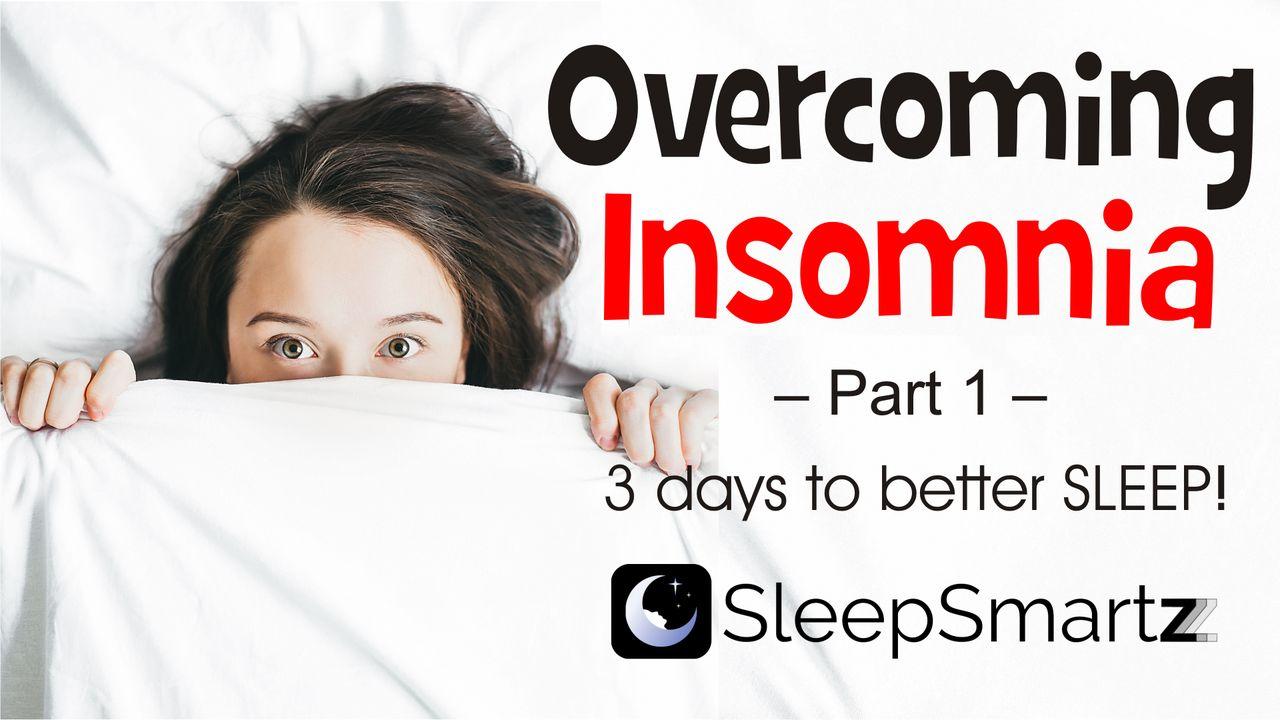 Overcoming Insomnia: Part 1 from SleepSmartz helps you end the cycle of insomnia that makes you feel terrible each day. This ...