Women of Valor: The Spiritual Battle
Sample
Day 1: Good and Evil
The Spiritual Battle has raged from before recorded history until the present moment. Humans play a critical and sometimes unwitting part in this confrontation between Good and Evil. The Word of God is meant to aid us in this endeavor. His Word provides both our offense and our defense, critical information, a playbook, inspiration, direction, sanctuary, and fortification.
Ephesians 6:10-20 captures the essence of the battle between good and evil. In this Plan, we will read and reflect on each verse in this pivotal passage, drawing encouragement from all the ways God provides for us. Today, we reflect on the passage as a whole.
What captures your attention today, as you read Ephesians 6:10-20?
The "marching orders"—be strong, put on the armor, take your stand?
The big picture—a struggle against the powers of this dark world and the spiritual forces of evil?
The compelling imagery of a soldier donning armor, piece by piece?
A personal memory of a time you sensed you were in the midst of a spiritual battle?
Consider this artwork, My Strength Is In Your Word, by Jennifer Kimbrough.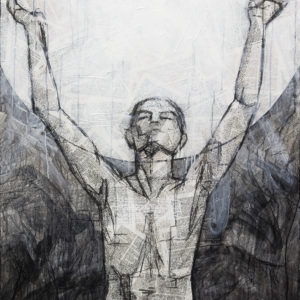 Jenny created this mixed media portrait by layering pages from the four Gospels onto an 80"x36" board. It's almost life-sized, as if you were looking in the mirror. Jennifer writes:
The armor of God is not a material thing you put on which lends you its strength, but a metaphorical covering of oneself with Scripture in order to be strengthened by God. Our strength is in being fully immersed in the Word of God, not in our physical being.
In this piece, I chose to portray a figure in a posture of supplication and worship, as this is the internal posture in which we are open to being infused with God's strength. The figure is not clothed in physical armor, but in the Word of God. A large circle, representing the presence of God, floats above.
The figure is fully covered by scripture, which is the source of all the virtues that form the Armor of God. It is not we who fight the battle, but the Holy Spirit within us. We equip the work of the Spirit by humbly laying ourselves down to the Word of God and using scripture as our source of strength.
By reading scripture in this Plan, you are already covering yourself in the Word. How can Ephesians 6 bring you strength and encouragement today?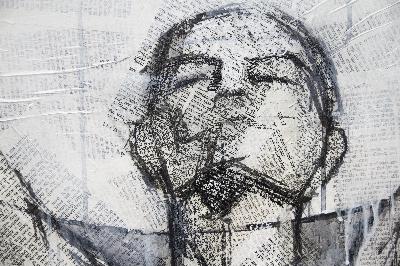 About this Plan
The Spiritual Battle has raged from before recorded history until the present moment. Suit up for the battles you face with t...
We would like to thank Engage Art for providing this plan. For more information, please visit: https://engageart.org