To the Girl Looking for More With Grace Valentine
Sample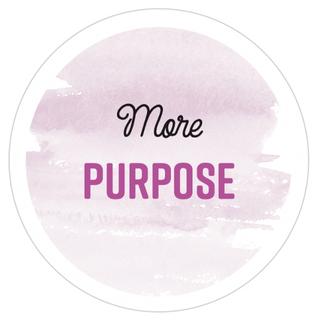 More Purpose: To the Girl Seeking Purpose
I used to have an addiction to saying yes. Yes was my most used word. If someone asked me to lead a club, work their shift, help them study, go to a party, join the team . . . I would say yes. I thought that to find more purpose, I had to say yes more. But I only became busier.
I get that you do this too. You say yes more than you should, and you live busy more than you live purposefully. However, Jesus never asked you to be busy.
I love a Bible passage from the story of Mary and Martha, sisters who hosted Jesus in their home. They each handled His visit differently. Martha cleaned the house and cooked a meal. Mary sat at Jesus' feet and listened to Him. Martha got mad that her sister wasn't helping with the work. But Jesus told Martha, "You are worried and upset about many things, but few things are needed— or indeed only one." Martha was being productive, but she was missing out on her purpose. What Martha was doing was helpful— but it wasn't holy.
Don't let your plans distract you from your purpose. There's nothing wrong with having plans. But are you pursuing plans, or are you pursuing purpose? I often get distracted from God's will when I focus on my will. My will is to be busy, have plans, be productive, and achieve success. But God's will is for me to pursue my relationship with Him.
You have only one purpose, and it is Jesus: To love Jesus. To be with Jesus. To show others Jesus.
So, today I say to my busy, overwhelmed, tired friend: drop your to-do list. Drop your plans if they get in the way of time with Jesus. Jesus doesn't want your schedule, GPA, popularity, hustle, or good deeds. Jesus wants you. Make time for Jesus. Be with Jesus. Call out to Him, then give Him your silence, so He has a chance to speak.
How can you figure out your purpose if you aren't doing life with the One who created you? How are you supposed to change the world if you're not first sitting at the feet of the One who saved the world? You can work as hard as you want, but you're missing out on true purpose if you aren't sitting at His feet.
Dear God, You never called me to say yes to everyone. You called me to know You and sit at Your feet. Help me be more aware of Your presence than I am of my to-do list. Amen.
About this Plan
Ditch the lies and embrace God's truth: you matter, and He has a valuable purpose for your life. In this devotional for girls...
We would like to thank HarperCollins/Zondervan/Thomas Nelson for providing this plan. For more information, please visit: https://gracevalentine.org/