SWHW Bible Reading Plan: July 2021
Sample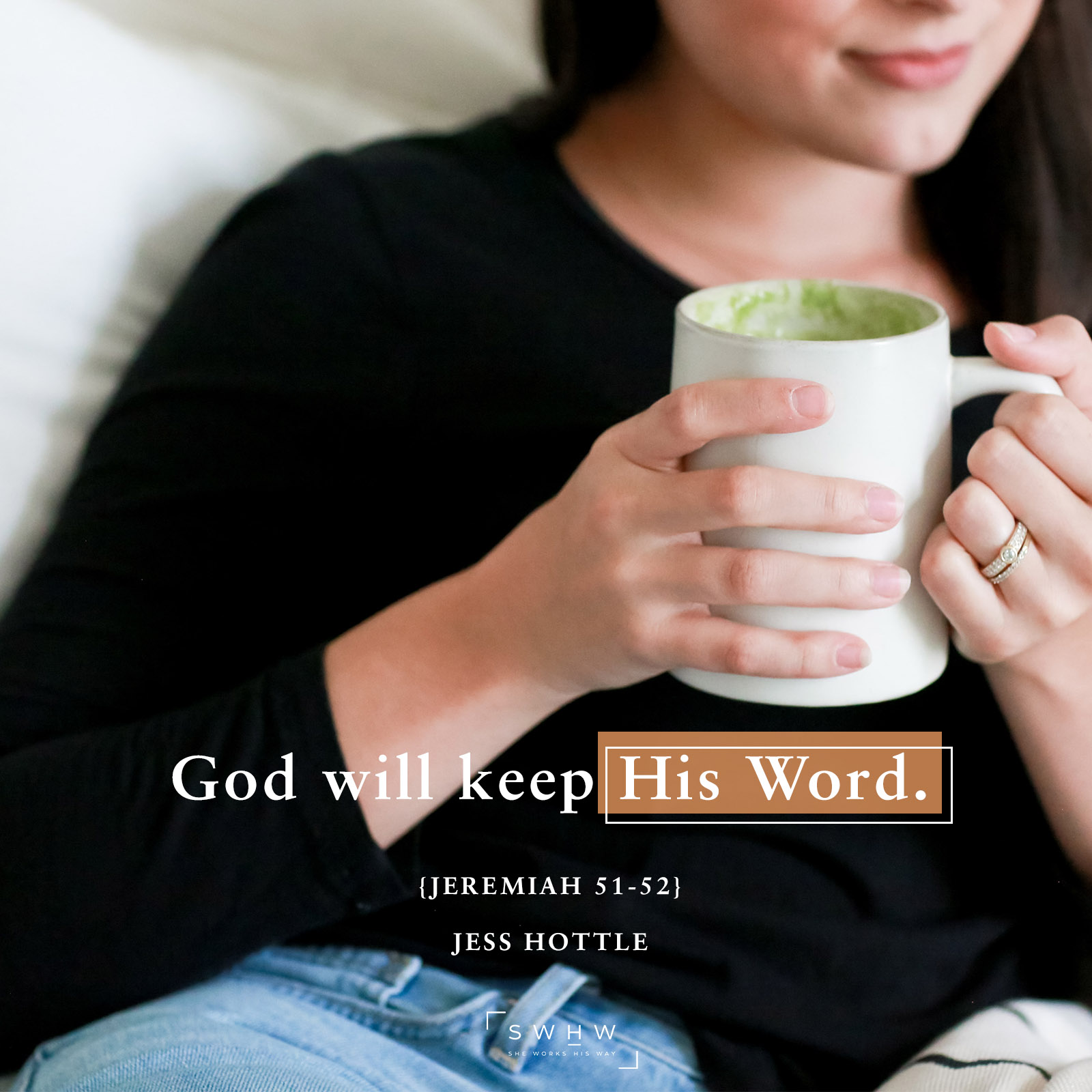 Top Takeaway from Jessica Hottle:
Jeremiah 52 reveals the faithfulness of Jeremiah to God. Throughout the book of Jeremiah, we read about him weeping for the destruction to come. We see him having sorrow over not being welcomed in his own town when he was trying to share the words given to him from the Lord. No one wanted to hear his words.
He spoke words that would lead people to repentance. When pride and self-righteousness enter our hearts, correction becomes hard. Correction tends to make us feel ashamed, so we avoid correction at all costs.
Jeremiah 52 speaks of fulfilled prophecies. Seeing the prophecies come to life reminds us of one thing: God will keep His word.
Even in their captivity, in the worst of situations, God began to show kindness and mercy in Jeremiah 52:32 by "speaking kindly to him and giving him a more prominent seat than those of the kings who were with him in Babylon."
God will keep His word.
Today is a great day to think about the words God has given you about your ministry, your children, your grandchildren, your spouse, or your friendships. Whatever those words are, allow them to germinate in your heart. When the worst of days come, you can look back on those words and remember God will always keep His word.
Time is not your enemy. Don't try to rush ahead of God or form false idols or gods to make your way. We read in Jeremiah about the cost. Nothing is ever worth the price of abandoning the Father's love.
Father, whatever is in our soul that does not align with Your heart, bring it to our attention. Continue to show us the better way than turning to the world and turning off Your Word. We welcome correction. We welcome healing. Thank You for continuing to extend grace and mercy towards us. We love You. Amen.
About this Plan
Using God's Word as the foundation for our conversation, every devotional is written by women in the trenches of faith, famil...