Does God Care About What I Say Online?
Sample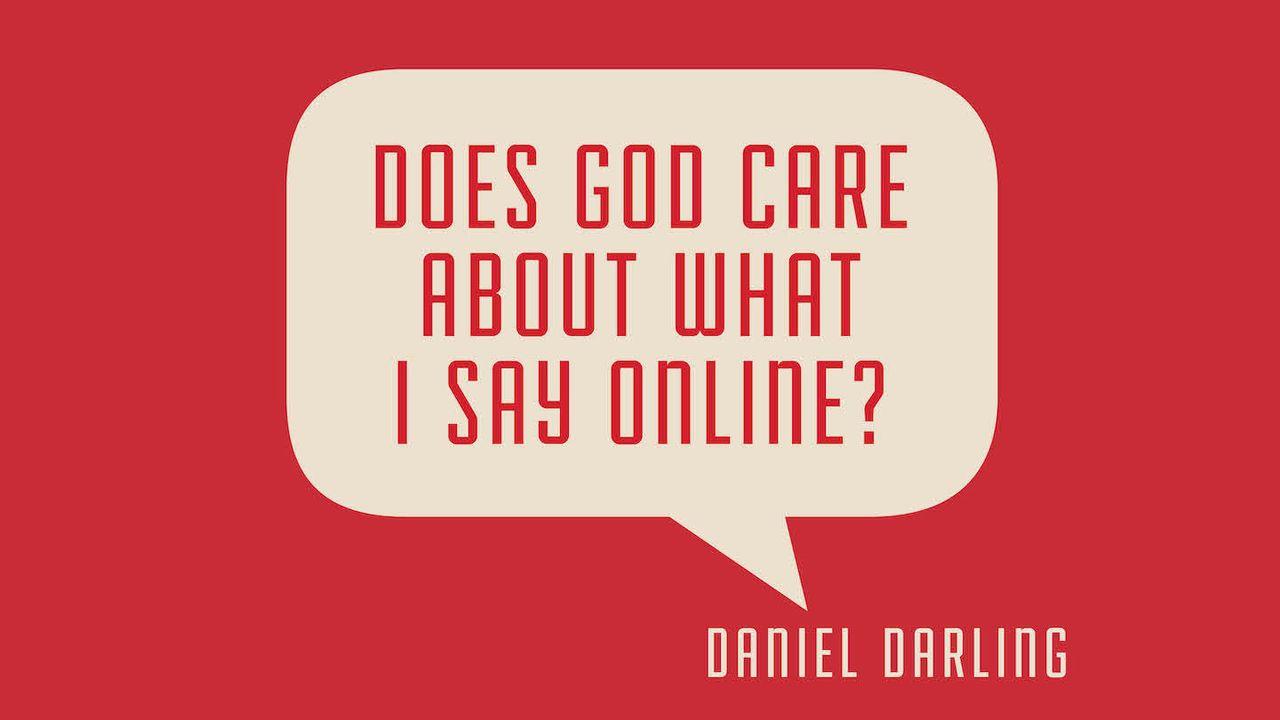 DAY ONE: Words Gone Wild
Christianity is a religion that believes in a speaking God. In fact, you could argue that the storyline of Scripture—God's own revealed word to us—is a narrative of God speaking. Just think, for instance, how often the Old Testament contains the phrase, "and the word of the Lord came to . . ." The prophets were always speaking because they first heard God speak.
But alas, not all the words that humans create reflect God's own beautiful words.
It is a bit ironic that the human race's descent into darkness began with the serpent's own twisted misrepresentation of God's words of instruction to his image-bearers. Words, after humanity's fall into sin, can now be used either to injure or inspire.
Death and life are in the power of the tongue. And, we might say today, the power of the thumb. Words can create or destroy, they can uplift or condemn. They can reflect the Word by which God has spoken or they can echo the whispers of the serpent. So powerful are words, the Apostle James tells Christian leaders, that "no person can tame" them (James 3:8).
If Solomon saw fit to warn the people of God in the Old Testament of the power of words, and if James saw fit to warn the early church of the power of words, how much more today should God's people heed what God is teaching us about how we speak? We live in a world with a vast and seemingly unlimited economy of words. There are more ways to communicate today than at any time in human history.
It may seem at times that stewarding our communication, especially the easy and free way we communicate online, is next to impossible. We might say with James, "Who can tame this beast?" But we should remember that those destructive half-truths in the garden were not the final word. Jesus, God's Final Word, has spoken a word over those who have turned to him in faith. He declares His word that we are justified and we are transformed. Jesus has conquered that unruly, death-dealing beast, and has given us God's Holy Spirit to help us tame our tongues and our thumbs.
And yet we Christians who believe in original sin can't quite get away with blaming Twitter and Facebook and Instagram and any other platforms—as if we are helpless in this digital age, and as if the way we communicate doesn't originate from within. Jesus reminds us, "Out of the abundance of the heart, the mouth speaks" (Luke 6:45). Or the thumbs tweet or record or post.
So, how are we to conduct ourselves in this new reality? The Internet is not going away anytime soon. Platforms may change, but the call for Christians to steward their words well is the same as it was in the beginning. May we see a kind of revolution of kindness, so that we may pray with Paul, "Let our speech be always gracious" (Colossians 4:6).
READ:
Luke 6:43-45
James 3:5-12
PRAY:
Heavenly Father, help me to steward my words well, especially when I'm responding online. Give me gracious speech so that I may glorify you. In Jesus' name I pray, Amen.
About this Plan
Social media was made to bring us together. But few things have driven us further apart. Daniel Darling believes we need an ...
We would like to thank LifeWay Christian Resources for providing this plan. For more information, please visit: http://awaywithwordsbook.com