He is Risen: Lent Devotional for Moms and Kids
He is Risen
by Tara Davis
Let's Get Ready!
This devotional is meant to be completed in the two weeks leading up to Easter Sunday, but feel free to start earlier and stretch out that time, just reading a few devotionals a week with your children. After planning the days you intend to set aside for this activity, there are just a couple of things you will need to do to prepare.
1. Print and assemble the banner and ornaments. The printable banner and daily ornaments can be found in coloring page format at the bottom of this page. The whole set is super easy to construct, requiring only scissors, a bit of string or ribbon, and tape! There are detailed instructions on the printable to help you with assembly; so set aside a few minutes to put it all together!
2. Choose a place to hang the banner in your house. The flags that make up this banner are actually pockets in which you will slip little daily ornaments for your kids to take out, color and hang on an Easter tree. You will want to choose a place in your home that your kids are able to easily reach. Make sure to secure the hanging banner in a way that will stand up to little hands.
3. Set up an Easter tree. This is as simple as stepping outside, cutting some small twigs off a tree or bush and placing them in a jar or vase. Set your Easter tree on a table or shelf in your home. Easy! This Easter tree is where your children will hang their ornaments throughout the next couple of weeks.
Daily Instructions:
The Easter banner devotional will give you a beautiful opportunity to share Jesus with your kids in the days ahead! Each day, gather your children together and then complete the following simple steps:
1. Choose a child to pull the ornament out of the Easter banner pocket for that day, or make extra copies of the ornaments so there is one for each child in the daily pocket.
2. Head to the table with the ornaments and say a quick prayer together before beginning the devotional.
3. Let your kids color the ornaments as you read the daily Scripture passage and the short daily devotional.
4. Ask your kids for their thoughts on the daily reading and then let them hang their ornament. Voila! You are done for the day!
Take it a Step Further (Optional Ideas):
• Find an Easter hymn that resonates with your heart and play it each morning as you begin your devotional time with your kids. A few suggestions are: "In Christ Alone," "How Deep the Father's Love For Us," "Jesus Paid it All," and "My Hope is Built on Nothing Less."
• Put together a prayer jar with names of people you know. Each day, let your child pull out a name and pray for that person specifically.
• Help your kids create a Jesus notebook to document the story of our Savior. Gather paper and a binder (or a spiral notebook or artist sketchbook), crayons, markers, and pencils. As you read each day, let your children illustrate the daily passage and devotional in their notebook. Then, if they would like, they can write (or have you write for them) a super-short summary of what they learned. Make this a fun exercise, not a chore for them. If they are not interested, don't push it. You want this to be a pleasant time of growing closer to their Savior! This is such a beautiful season in their lives!
About this Plan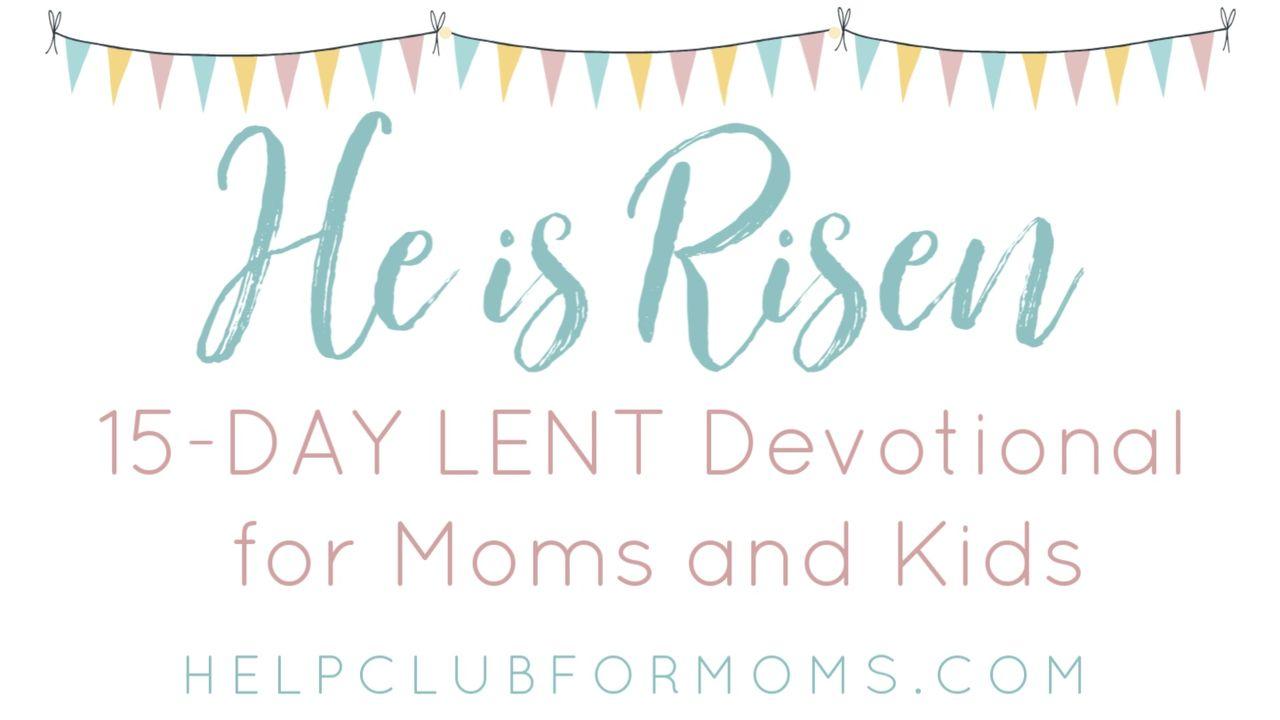 Resurrection Sunday is almost here! As believers, Easter is the most meaningful holiday of the year and, as a mom, you have the priceless gift of sharing it with your children! This Easter banner and devotional is a fun...
About The Publisher