5 Lessons On Finishing Well From Samson
Spiritual leakage
Samson was a man, set apart from birth by God, for unique service and the deliverance of his people. He was given great strength and a keen intellect. As a Nazirite, certain restrictions showed he was set apart for God. He shouldn't eat the fruit of the vine, cut his hair, or touch dead bodies.
But Samson lived a life full of compromises. He probably compromised himself in each of these areas. He became less sensitive to the spiritual realities they represented, and also less resistance to matters of morality. Before long, he was falling asleep in the lap of Delilah.
Compromise can be wise in situations like business negotiations or desires within marriage. But when it comes to compromising values and principles, compromise can ruin us.
Usually, our beliefs influence our behavior. But if we are tempted to change our behavior, and we do something we once believed was wrong, how do we deal with the tension between our values and our actions? We change our belief. This is what Oswald Chambers calls "spiritual leakage."
I heard the other day of a pastor who had been caught in adultery. I don't know the details—it doesn't matter. His compromising behavior was costly: a fractured family, a destroyed congregation, and relationships ruined. This is the legacy of loose living. Nothing good results from compromising God's standards. Compromise is a corruption of the Christian's soul, a collapse of the inner life, and a cancer in the body of Christ. Spiritual leakage leads to spiritual wreckage.
Our personal compromises may be different according to the false god we choose to follow. We all have them—whether it is lust, pleasure, materialism, fame, success, overindulgence, power or position. We need to realize that a false god is nothing more than a deception from the devil. To worship a false god is an act of compromise and betrayal. The end result is always disaster: "Those who make them will be like them, and so will all who trust in them" (Psalm 135:18). Our character will become like what we worship, whether the holy God or his opposite.
Reflect:
Can you identify times of spiritual leakage or even of spiritual blowout in your life? What steps did you take to repair the leak or the blowout? What are some ways that we can guard against spiritual compromise in our life?
About this Plan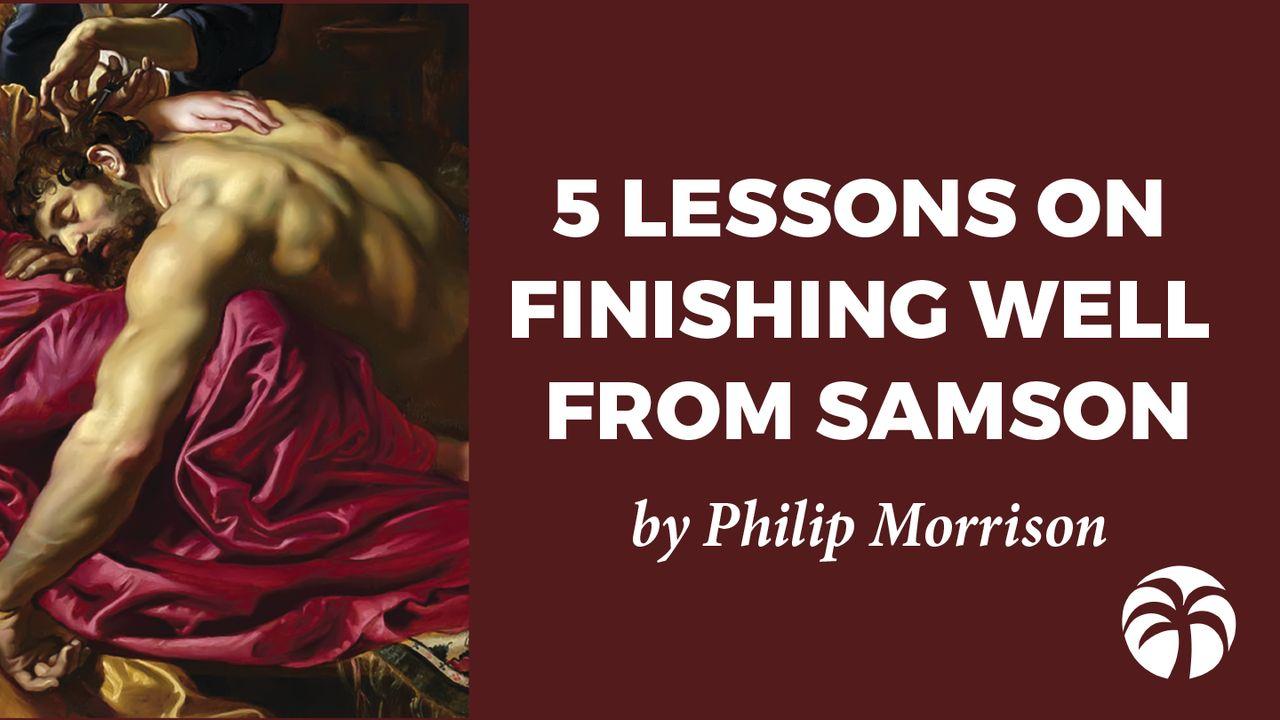 Are you nearing the end of a phase in your life or work? How can you ensure that you don't make poor choices and damage your legacy? Heed Israel's notorious strong-man, judge Samson, who ended up falling asleep in Delila...
We would like to thank Oasis International Ltd for providing this plan. For more information, please visit: http://oasisint.net/
About The Publisher