The School Routine
Meet Emidio. It's 7:00 a.m. and time for him to get ready for school in Brazil. His house is just one small room that he shares with his mom, step dad and little brother. He washes his face and is on his way! He walks for 5 minutes to the Compassion center and eats some breakfast of yogurt, bread and milk. After some games and lessons, he's off to his friend's house where he showers and dresses for school in his uniform—a bright white shirt and red shorts.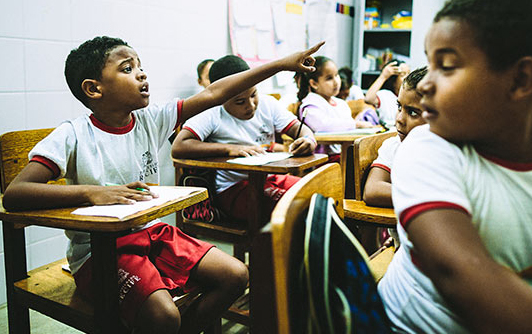 Emidio's classroom is probably a lot like yours. He has his own desk and he studies similar topics that you study. In the evening, he goes home and helps his mom with dishes. Then he'll spread a blanket on the floor and go to sleep. When he wakes up the next morning, the routine begins again.
Do you have a routine for school? Perhaps in the summer, you get to sleep longer or take your time getting ready for the day. When school begins, the alarm may need to be set earlier or you may have to make an extra effort to be ready on time. Otherwise, you'll be late!
When we change our routine, it's easy to complain about it and argue with our siblings. In our verses today, we learn that God wants us to do everything without complaining and arguing. God says to live in such as way that we shine like stars in the sky! He wants us to shine for him—even when we are exhausted from having to get out of bed so early!