The Word Is Our Foundation
Sample
The God Who Speaks
The very first time we meet God in the Bible, what is He doing? He's speaking. In Genesis 1, God speaks the whole world into being. He speaks to the new humans, He addresses each 'phase' of creation, and His words define the value and purpose of everything that exists.
The earliest followers of God, Abraham, Isaac, and Jacob, each experience the reality of a relationship with their God; they all speak to Him face to face. But once their family has grown into a whole nation of God-followers, those individual conversations evolve into something new. God chooses Moses to become the first prophet, God's first mouthpiece to speak to the community on His behalf. Instead of personal encounters with God, the people of Israel receive God's 'Word' through Moses.
In the centuries that followed, many other prophets passed on what God was telling them to say. They were each responsible to bring God's Word to His people to communicate what God was saying. They gave direction and encouragement as well as correction and guidance. Much of what they shared is now included in our Bible in what we call the Old Testament. (The bits of the Bible written before Jesus).
So when John introduces Jesus in the first chapter of his biography as "The Word of God, " he's drawing on this long history of how God communicates. The God who has always spoken to His people over thousands of years, this same God has sent Jesus to be the ultimate Prophet, the complete Message from God, the perfect picture of who He is. And in the same way that the Old Testament became a record of God's words, now the New Testament records and passes on the life and teaching of Jesus so we can have deep confidence about who God is and what He's doing.
So when we talk about having the Word of God as our FOUNDATION, we're talking about how the Bible helps us to experience the reality of our relationship with Him. Our God is a God who speaks; we can't separate Him from His Word - our faith is built on this idea. We know God through His Word. In fact, we can't grow in our relationship with God without experiencing a growing love for Scripture. Because in His Word, we discover:
A Clear Picture of Reality
An Abundance of Wisdom and Advice for our Best Life
The Truth about Sin and Salvation
Hope and Peace - in the Promises of God
We'll look at each of these over the next devotions and discover more about how God speaks to us through His Word.
Reflection Questions:
What's been your best experience of hearing God's voice through the Bible?
What questions do you have about the Bible? (You might want to jot them down?)
Who helps you the most with understanding the Bible and its relevance?
About this Plan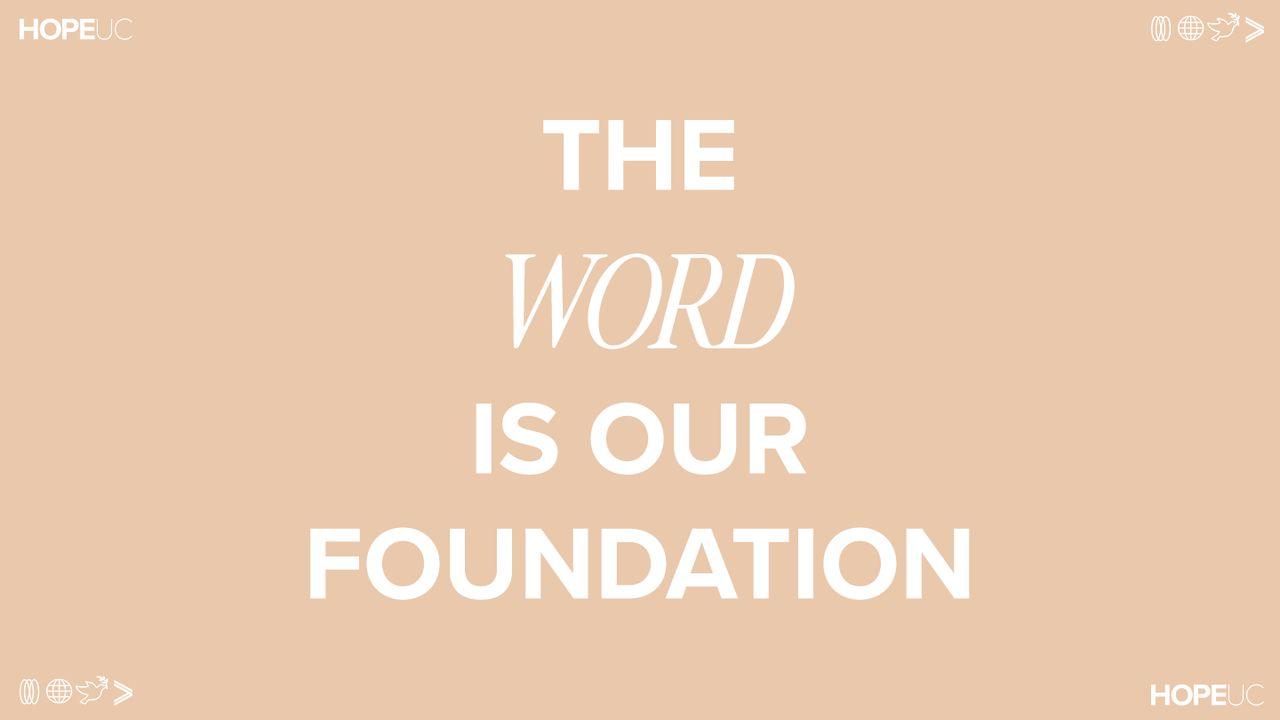 When we talk about 'the Word as our FOUNDATION,' we're talking about how the Bible helps us to experience the reality of our ...
We would like to thank HopeUC for providing this plan. For more information, please visit: https://www.hopeuc.com