Prayer: Daily Conversations With God
Day One: Praise and Thanksgiving
Praising and thanking God for His character and spiritual work in your heart
I don't know about you, but sometimes prayer can seem pretty intimidating. Thinking about what to say, finding the time and space to do it, and remembering to integrate it into my daily life can be difficult. It's why I decided to push myself and a few friends with a prayer challenge in which I came up with a rhythm of what to pray each day of the week for twenty-eight days. Nothing about it was extremely groundbreaking, but what it did in my heart and relationship with God was.
Sometimes we just need a little help getting started. We need some tracks to run on instead of trying to come up with it on our own. And once those tracks get laid down, we can't help but gain momentum.
For the next seven days, that is what we are going to do. I'm going to help you find a rhythm to your own conversations with God, one that you can carry on well past this week together.
Today, our focus is on praising and thanking God for His character and spiritual work in your heart. We often enter a conversation with the Lord with a long list of what we want from Him. Problems we need Him to solve and people we need Him to help. He is always one to listen, but just like you may feel unseen when people only come to you with what they need from you, God wants to know that you love Him for more than what He does for you. He wants to know you love Him for who He is.
So today starts just by praising and thanking Him. If you need a little help, grab your Bible and check out how the Psalmists in the book of Psalms celebrate who God is. Think about your own spiritual journey and the moment you said yes to Him. Think about the people He placed in your path to help you grow and know Him more. It was never by accident that He provided people to teach, nurture, and encourage your faith.
Today, say thank you Lord for who you are and how you've equipped me for my walk with You.
Dear God, I praise you for who you are. Thank You for my salvation and my life with You and for the work you've done in the lives of others who have influenced my walk with you.
■ Praise God for a characteristic you are grateful for in Him. Is it His kindness, His goodness, His faithfulness, His patience? What do you want to honor about Him today?
■ Thank God for His provision in your spiritual journey. Who did He place in your life to help you meet Him, know Him, and trust Him more?
About this Plan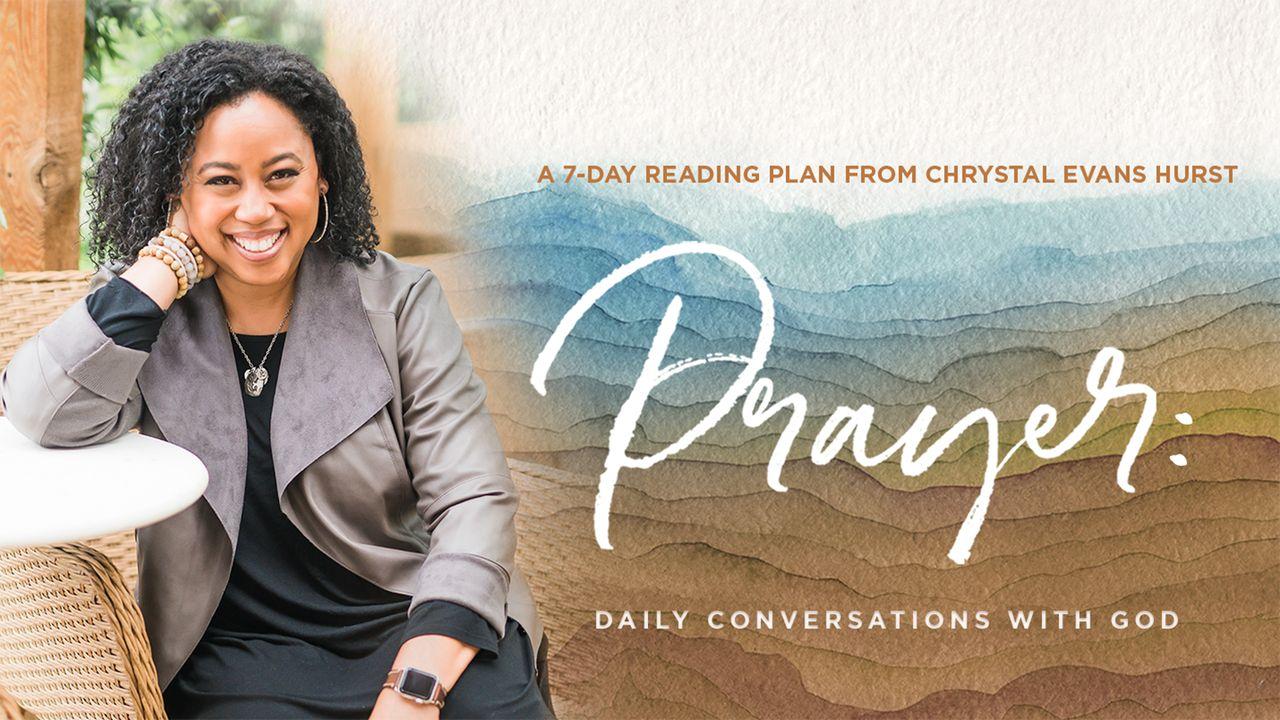 Do you struggle to have daily conversations with God? Or have you found yourself off track in your everyday discussions with Him? Join Chrystal Evans Hurst as she guides you through a 7-day devotional rhythm that you can...
About The Publisher