Search results for:
jackie bledsoe
Blessed Before Breakfast: Meeting God Early in the Morning
5 Days
Is your desire to create an intentional habit of waking up early in the morning to spend time with God? Scripture is filled with examples of people who had this discipline and were given hope, direction, and power. In this five-day Bible plan, you'll be encouraged and equipped through five biblical examples of the power of waking early in the morning to meet with God.
The 7 Rings Of Marriage - 5 Day Devotional
5 Days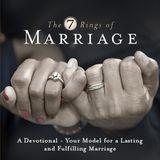 Marriages either grow or regress. They never stand still. Is your marriage growing or regressing? The 7 Rings of Marriage is a practical approach to growing your marriage. In this 5-day plan, based on his bestselling 7 Rings of Marriage book and Bible study, Jackie Bledsoe will guide you through key Biblical principles and prayers to help you grow closer to God and your spouse.